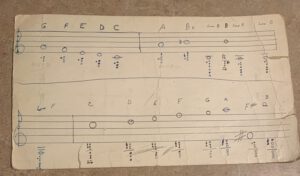 Today was Day One of practicing my clarinet. I played for many years, many years ago… then I took over 25 years off, and now I'm starting all over again.
Twenty five years of past experience is still in me. I know the best foundation for playing an instrument is to master playing perfect musical notes. When I used to teach private lessons to students, that is what I taught every one of them.
Your first clarinet lessons are difficult, and can be frustrating. You can't play like Benny Goodman, though you want to. Nope, you are first going to sound like an injured squawking giant upset bird. It is important for a music teacher to reassure their students that one day they'll be playing songs. At the same time, it helps to let students know, as with all things, things will move along faster and turn out better if they build a solid foundation. These are things I am having to remind myself right now as I start over.
Today, I started with the first lesson. By the time I got to the end of the session, my embouchure was tired, so was my diaphragm and my right thumb. I will have to keep at this first lesson until it is effortless and musical before going onto the next page. Along the way, I will have to find the optimum mouthpiece and reeds, cork grease, and adjustments to the venting of the keys. I will also need to refresh myself on many topics, small details that eventually add up to big improvements.
I approach dog training much the same way as teaching a musical instrument. In Basic Obedience, we start out with how to properly obtain good Manners. Next, we go over how to give the Perfect Command. A perfect command is communicating perfect information to your dog so that they may learn exactly what it is you are trying to teach and what you are wanting them to do. I teach eight critical steps for giving a dog a perfect command.
I also teach students the correct way to hold and use a leash. Leashes have two purposes. First, to prevent an escape. Second, they are a tool to transmit information to a dog. Many years ago, a friend lost control of her big dog and it died. I had worked with her years before, with a different dog, on how to hold a leash. If she had been improperly holding that leash, she would have also died during that tragic accident (I will spare you the gory details of how the dog died). These early basics are for the benefit of the owner and the dog. I am currently working with some first time pet owners and we went over how to hold and use a leash this past week. That work will help them considerably as the years go by. One dog, a rambunctious 1 year old rescued pit bull, pulled one of these students along the street like a freight train before I started working with them. As of Wednesday last week, we had cured about 80% of that problem after that leash session. They had been doing it wrong prior to that lesson because they didn't have the right foundation for themselves or the dog. We will get the rest sorted out in future lessons. As with playing a musical instrument, there are many small details that add up over time into major improvements.
There are many similarities to teaching someone how to play a musical instrument and how to work with a dog. As I say when teaching all students, advanced obedience is mastering the basics. This is always the focus.
The Basic Obedience sessions are all very important. Each one teaches foundational skills. If a student gets these right, then they are going to see some pretty amazing work out of their dogs. The picture of them working together will be… musical! It looks really good. They know it and everyone else can see them working well together as a synchronized team.
I learned a lot from playing music. My mom started me out before I was 5 years old. In fact, I still have the very first lesson she did with me. It is a handwritten scale on the hard paper insert that was put inside a men's white dress shirt… my dad's white dress shirt he wore during concerts. He was a professional sax and clarinet player with his own dance band. She started me out with a very good foundation. Similarly, I want my students to take and keep good notes from those first few lessons we do. They will find that they can refer back to them again and again over the years.
Dog training is like practicing a musical instrument. If you understand that, you know more than 99% of other dog owners out there. You are on the right path with your dog.