Bunker – America's Cutest Puppy
Call Today!
Sam Basso
PHOENIX , AZ AREA: (602) 708-4531
OR, if you are out of this area, inquire about a telephone or e-Lesson
Email: [email protected]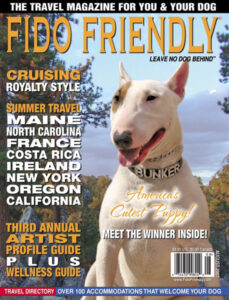 I still remember Tammy calling me about training Bunker. She had entered him in a contest, sponsored by WeTV, called "America's Cutest Puppy". He was a national finalist and had to appear on TV in 2 weeks and perform a trick. Oh, and he was about 3 months old and had no training. It was a tall order, but I agreed to take him on as a project. Bunker was quite a handful.
Bull terriers are one of my favorite breeds. They are playful, courageous, tough, active, curious, forceful, protective, spirited, jaunty, have a sweet side and also a bit mischievous / defiant side, affectionate and highly trainable. Oh, and did I say playful? Yeah, figure getting a double dose of playful if you get a Bull Terrier. You have to give them something to do or they will get in trouble, and Bunker was no exception to that rule.
We set aside time to train Bunker every day up until his trip to Los Angeles. We started with Basic Obedience, like I would with any dog. That foundation was necessary for the trick to work with the distractions of a television studio. We needed that for him to listen and to be well mannered enough in front of the camera to have a shot at winning. I also decided that the easiest trick to teach Bunker was to "play dead". The set up was for us to be able to point our finger at him, like an imaginary gun, say "Bang", and he'd hit the floor on his side and stay there until released. By the day or so before Tammy took him to LA, he was good on a leash, and he'd do a respectable Bang most of the time. I figured that we'd have as good of a chance as anyone on the trick. My thinking was most people would just bait their pups with a treat and hope the dog would do something for it, but once the cameras were rolling, that strategy would fail them – and I was right. Bunker would have to obey the Bang like a command for it to work on camera. I also figured his charismatic attitude and unique looks would do the rest. The strategy worked.
I remember getting word from Tammy that Bunker had won. Even though I knew we had done a good job, it was anyone's guess as to what was going to happen. Bunker won a ton of prizes, and WeTV replayed that show over and over again on their cable network for months. Bunker was a star!
We did a lot of additional training after the show was over, in the hopes we could get some paid commercial work for Bunker. Bunker had a lot of potential, and was taught some pretty high level skills. Tammy also became a close friend. Then, life threw all of us a set of difficult curves, and we never got that far. Since a lot of that is private, I can't mention it here. Times were hard.
Bunker had a special affection for me. When I'd come to visit, even months later, if he heard my voice he'd want to come running and see me. Bunker was the closest thing to Dillon, my now deceased Doberman, that I've worked with in the past few years. They shared a lot of traits, and if he had been my dog, he would have fit into that hole that was left when Dillon passed away from heart failure. Bunker also passed away recently, going into kidney failure for unknown reasons. We were all shocked when it happened. It was a devastating loss.
On the good side, Tammy has gotten a new female Bull Terrier puppy named Caddie (they name all their dogs with a golf related name). We've already started puppy lessons.


PLEASE READ:
Why Should You Choose Sam Basso To Train Your Dog? (What To Expect)
Customer Testimonials (Please call me if you'd like to talk to my references)
My Prices (Complete description of prices for each program)
My Rules (Policies, Payment, Cancellations, Rules, Disclosures, etc.)