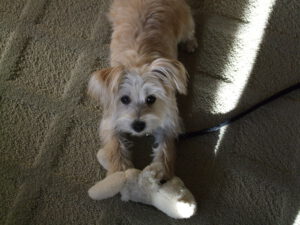 Imagine how much happier you'd be if you had a well trained dog…
Maybe you've tried it on your own, and it isn't working…
And maybe it is starting to worry you because…
• You can't control your dog, especially at the door (barking, jumping, running out the door), or on a walk (pulling, laying down like a rag doll, barking); and won't Come when called;
• Your dog is becoming a hazard and an embarrassment;
• You have a powerful breed that can't be left untrained, or a small dog that is too vulnerable if left untrained;
• Your dog's problems are starting to multiply;
If you're like many, however, you've already tried to solve the problem. Perhaps you've consulted friends and family members; watched TV shows and training DVDs; read books; and may even have taken your dog to training classes.
But in spite of these efforts – and your best intentions – your dog doesn't obey… won't Come when called, isn't good on a leash, is not pleasant at the door, and is getting in trouble way too much. In fact, things may have even spiraled more out of control! So understandably you're physically, mentally and emotionally drained and ready to give up.
Some of the dangers are
• People are starting to get angry with your dog, and that is making things worse;
• You are starting to not enjoy owning your dog.
• This could lead to worse problems in the future
If so, you're not alone, and I'd like to help.
Let me help you get on the road to a well-behaved dog. Please contact me directly by phone at 602.708.4531 or by email using my secure online consultation form. We can set up LIVE online lessons or in-person sessions. I am a well known and respected dog trainer and behaviorist for the entire metropolitan area. You can see, by searching the internet, I am asked by the local TV media about dog issues. I am well known in the animal rescue world, and am the Founder of Citizens Animal Welfare Society. I am co-founder of PATCHES, a project to build and operate a privately run animal shelter to supplement what the County does. I do expert witness work for attorneys. I have a partner in another business where we offer specialized therapy dog training and support to various organizations. I don't use harsh training methods. I've trained all ages and a wide variety of breeds in all parts of town. This is a central business area for me, and I'm in the vicinity of your place almost every day. Setting up lessons is as simple as letting me know what you are dealing with, and then arranging an evaluation or lessons, from puppy lessons, to obedience, to behavior modification. I can do lessons at most times of the day, and sessions will be scheduled in relation to where my other appointments are each day (because I have to plan a weekly route).
And when you're ready, we can schedule your first lesson, so I can learn more about you, your dog, and your situation. This will be one of the best decisions you've ever made. You have my promise.
In Basic Obedience I dog training, we will complete the following exercises:
a.) House Training and Manners
b.) Boundary Training
c.) Sit/ Stay
d.) Down/ Stay
e.) Sit Out Of Motion
f.) Down Out Of Motion
g.) Come When Called
h.) Heeling: straight, turns, automatic Sit
i.) Handler Skills (too many to list here)
j.) Management Program I
The BASSO System: Positive Training That Really Works
I have been a professional dog trainer and behaviorist and dog trainer for over 20 years.
And during these many years I've helped dogs end their difficult, unruly and disruptive behaviors so they – and their owners – now lead happier, safer and more peaceful lives, and their respect and love for each other has room to grow.
I've been able to accomplish this by combining time-tested training techniques and more innovative, scientifically based methodologies, I call the BASSO (Behaviors, Aggression, Self-Control, Service and Obedience) Dog Training System.
I developed this approach after many years of study and work.
Simply said, my system is a highly personalized, step-by-step, and holistic approach to dog training and is designed to:
Identify and address the root cause(s) of your dog's aggression, as well as the symptoms. In order to determine how to correct your dog's behaviors, we must first uncover the "whys."
Tap into your dog's unique characteristics. One-size-fits-all dog training approaches simply don't work well. That's why I develop a "treatment" plan that takes into account your dog's personality, size, breed, temperament, family dynamics, and more.
Deal with any/all external influences (e.g. medical issues, activity levels, environmental factors, past traumas, etc.) that may hinder your dog's ability to be trained.
Reinforce your dog's natural instinct to exert self-control and please you. Your dog will joyfully learn how to replace their negative behaviors with positive ones.
Involve you – and all family members – in your dog's training and educate you on the importance of consistency, respect, practice, patience and follow-through.
"I had my Rottweiler puppy trained with Sam and he was so complete in his training, patient and provided me with a whole new mind set with being a responsible dog owner. Very happy with his training. BTW, my dog is the most gentle and people loving dog around and that's due to the tips I received from Sam on how to socialize her." — April
Thinking Ahead: This dog training program is also designed to PREVENT problems, not just to solve your dog's immediate behavioral problems. My students become aware this from the very beginning of lessons. It's kind of like practicing good health habits today to prevent cancer instead of having to visit the doctor later to treat the cancer with chemo-therapy. So, I'll demonstrate seemingly small and insignificant techniques like how to put on a leash, or how to pet your dog, or how to introduce your dog to strangers, which will pay off big time over the life of your dog.
Why can't I do it myself? How Do I Know If I Need A Professional Dog Trainer?
Here is a quiz (basic concepts every person should know before attempting to train a dog without assistance):
1. Have you ever, on your own, trained a dog to off leash obedience?
2. Can you define and give an example of your experience using these very simple concepts influencing animal behavior (Classical Conditioning; Operant Conditioning: Successive Approximation; Positive Reinforcement; Negative Reinforcement; Punishment; Stimulus; Cueing; Desensitization; Displacement Behavior; Innate behaviors; Anxiety; Fear; Critical Period; Socialization; Agonistic; Circadian Rhythm; Ritual Display; etc.)?
3. Are you good at reading animal behavior, and determining the cause of your dog's misbehaviors?
4. Do you know the best method to train your dog's breed(s)? Do you know what methods you should never use on your dog?
5. Do you know how to devise the best learning plan for your dog?
6. Do you know the best types of equipment (leash; collar; crate; bowl; bed; toys; etc.) for a dog like yours?
7. Do you know how to implement a maintenance training program once your dog is trained?
8. Do you know how to get everyone in the home sufficiently trained so that they are properly, kindly, and consistently working with your dog?
9. Do you know how to properly manage multiple dogs in the home?
10. Are you confident that if you do the training on your own, it will turn out well? And if it doesn't work out, or you make the problems worse, then what?
Some Additional Concerns…
You're not convinced that your dog is truly untrained. People say, "my dog 'knows' ______"… but if your dog "knows", then that is proof that your dog DOESN'T know, isn't trained properly. Chances are if you're reading this, you already know that. However, if you have any doubts, I strongly recommend that you – and others who know your dog – take a few minutes to answer the quiz questions.
You recognize that your dog is disobedient, but still believe that you can go it alone, or that his behavior will improve in time. In all seriousness, the animal shelters are full of dogs like this. Almost every dog started out with good intentions, but eventually the dog runs away, or the owner wrecks the dog with do-it-yourself training, or the owner just gives up on their dog.
You'd like to hire a private, in-home – or online – trainer, but think it's cost prohibitive. I get it. Money is a very real concern for all of us. That's why I've worked hard to maintain my very affordable rates. What's more, my system is designed to get results… and it's not unusual for me to stop unwanted behaviors in just a few short sessions.
You think that it may be too late to train your dog, and he or she will have to be put down. In truth, I have good solutions for almost all dog problems. There are only a handful of dogs who are simply beyond help. If you're concerned about your dog, please contact me by phone (602.708.4531 or email and I'll schedule you for an initial consultation so I can assess your situation. It's entirely free and without obligation, so there's simply no good reason to wait another minute to get your dog the help he deserves.
You don't know who to turn to for help, or whom you can trust to provide affordable, effective, and sustainable solutions for your dog. You can spend your time slogging through the mounds of information – and misinformation – on the Internet or take the word of self-proclaimed dog trainers, but those are usually fruitless exercises.
Rather, why not choose a professional dog trainer who has extensive experience and a verifiable track record of success working with a dog like yours; utilizes a well-thought-out, holistic approach to helping your dog; and understands the "truths" about dog behavior and doesn't buy into misguided, but popular, myths?
Let me help you get on the road to a well-behaved dog. Please contact me directly by phone at 602.708.4531 or by email using my secure online consultation form. I answer all inquiries personally.
And when you're ready, we can schedule your first lesson.
Basic Obedience I is the place to start if you have an untrained dog. Your private lessons are up to an hour long. You also decide how many lessons you want to take. The Basic I lessons typically are about 18 sessions. Most students do one lesson per week, but we can train more frequently if you wish. There is homework and lots of personal attention and instruction… I'm here to make sure your dog succeeds. I am training your dog. I am training you, and your family. It is important for you to develop an "end picture" of your goal for your adult, trained dog. Your goal will then dictate how far you will want to take the training. I have over 200 obedience exercises, from novice to very advanced. Not everyone wants to go all the way to advanced obedience, and that is OK. You'll know when you feel your dog has the amount of training you need. I used to offer "packages", prepaid up front. I no longer do that. I find that students are more attentive to doing their homework, and getting results, if they have to "feel" it each lesson by paying at the end of each lesson. This also makes the training much easier for students on a tight budget.
There is so much that is NOT in dog training books… and I teach you those kinds of things… skills and techniques I've created and learned by years and years of experience and observation. For example, I read animal behavior research studies at least 3 hours every week, and I've been doing that, and more, since I started training dogs professionally in 1997. All that research pays off for my students. And so does all the hours I've spent working with dogs of all kinds over all those years. (Read: Dog Training Myths) There are things that you can only learn by seeing and doing through working with an experienced professional. I then put you on a Maintenance Program to show you what to do after the lessons are completed. I also tell you how to stay motivated so that you don't quit working with your dog after the lessons are completed.
AS YOU CAN SEE, THIS ISN'T SOME QUICK FIX PROGRAM WHERE I TAKE YOUR MONEY, AND DON'T DO ANY WORK. NO… we won't be finished in 5 lessons… how can any trainer honestly say they have put in a good effort for only a token amount of work, right?  WE ARE NOT GOING TO DO A QUICK FIX PROGRAM… WE AREN'T GOING TO BE ROUGH ON YOUR DOG… WE ARE GOING TO BE THOROUGH AND YOU ARE GOING TO LEARN A TON… AND SO IS YOUR DOG! It's not acceptable to skip all the important details and rush you out the door. You are paying to be trained, and to have your dog trained… and that is what you will get!!
Personal Coaching: I also am the one doing the lessons with you, not some "assistant". You work directly with me. That's why this is "Sam The Dog Trainer", not "Acme Dog Training School"… it's about you hiring an expert to personally work with you. Any time the owner's name isn't part of the school, it is highly likely you are dealing with an employee, not the person who devised the program. Yet, even a couple of the larger franchises have someone's name on the door, but it isn't really them. Remember the "Fred Astaire Dance Schools"? Was Fred Astaire teaching those classes or was it someone who purchased a franchise? Obviously it wasn't him. Always make sure you are dealing with the owner, not some employee who is only there to get a paycheck.
The Law Requires That You Control Your Dog: And let's face it. Some people you know or will meet hate dogs. They may be family members, your guests, your neighbors, strangers, or that animal control guy who is at your door because of a complaint. Training is not teaching a bunch of useless tricks. It can affect you legally and socially. You have a responsibility to do things correctly and legally. And if you don't, there are people out there who will go after you, especially if you own certain breeds (pit bulls, Rottweilers, Dobermans, etc.). (Read: The Problem With The Untrained Dog; Is It Ethical For People To Train Their Dogs; ). If your dog gets loose, the laws in your community hold you responsible for what your dog does.
I Want You And Your Dog To Succeed And Be Happy: No one fails this dog training class (unless, of course, you don't do any of the homework). Let's keep going until your dog is trained. Unlike other programs where you can take the class, yet you or the dog fails, I am coming every day, TO MAKE SURE that you are trained. Some dogs are slow to train, for a variety of reasons. I have had several customers that did the homework, but the dog was a very slow learner. In those cases, I have given away, free lessons to make sure the dog was trained properly. As long as (a.) I see that you are doing your homework diligently and with a good attitude, as I instruct, (b.) you don't keep missing or rescheduling lessons, (c.) the issue is that the dog is going slowly (I won't push your dog faster than your dog can learn), and (d.) that you have paid for the entire program up front (and not chosen a payment plan), then I will consider offering these additional free lessons on a case by case basis. Otherwise, each additional lesson is charged at the regular rate.
I define Basic Obedience from a perspective of accomplishment. (First off, we are not going to train your dog to be a 'robot', meaning that we won't bear down on your dog beyond your dog's genetic capability to do the work with a good spirit. Harsh dog training scares a dog into obeying, fearful of what is going to happen to them if they don't immediately respond to commands. This is abusive training, and I don't train dogs that way.) I feel that a dog and owner have completed Basic Obedience when the dog is mostly well mannered, the dog is mostly reliable and obeys on (and off leash, with moderate distractions) with the basic commands (Sit, Down, Heel and Here), and the owner knows how to work with their dog. [REMEMBER: THIS IS "BASIC" OBEDIENCE… FOR MORE CONTROL YOU NEED "ADVANCED" OBEDIENCE"] In other words, if your dog can't obey the basics, then your dog hasn't yet completed Basic Obedience. That's why I say that in my classes, my Basic Obedience course is the equivalent of a dog taking about 1 1/2 to 2 years of weekly group lessons (approximately 50 to 100 group lessons). So, that's why other trainers shouldn't say that a dog has completed Puppy, Basic, Intermediate and Advanced obedience if the dog hasn't obtained the necessary skills at that level. To me, Basic Obedience has been completed when the dog OBEYS the basic commands in the real world, as best as that individual dog is capable of.
We cover Manners and Command Oriented Behaviors. Manners are those things that you expect your dog to do without having to tell them, such as staying off the furniture, not running out the front door, how to greet guests without jumping, etc. Command oriented behaviors (obedience commands) are things like Sit, Down, Heel and Here. We do the lessons in the real world. Usually, that means we are working at your home, in the street or along the sidewalk, or we'll even meet at a park or public location. I want to simulate the real world as much as possible to get your dog ready to obey when it really counts. Sometimes, before training commences, I will want to do an Evaluation. I will let you know if that is the case. I want to make a good recommendation. Not all dog problems require an obedience program, and I won't recommend one if it isn't needed.
A good Basic Obedience dog training course should also include lessons on how to continue the training at home once the formal lessons are over. With each customer, I describe a specific Maintenance Program on how they can do just that. Training is never over, since the dog can forget all we have taught if we never use it or we forget how to use it. We also will go over topics that could involved a variety of topics, such as boarding your dog when you have to leave town; never playing with a laser pointer; choosing a veterinarian; choosing to get another dog; breed characteristics; Let's Talk About Electric Collars; Using A Dog Groomer; What About Prong and Chain Collars; and so forth. I can be a good resource, and love to discuss ideas and look for solutions.
Finally, I offer follow up for my customers, to ensure that they have all their questions answered, even after we have completed the lessons. Most of the time, the follow up is free. In some instances, however, the situation requires additional lessons. That's why I offer Maintenance Lessons, so that customers can go beyond Basic Obedience, and also why I offer a One Week Tune Up, so that if the owners or dogs skills get rusty, that we can polish them up.
It is important to go beyond just Basic Obedience: To get more off leash control at greater distances and in more difficult situations, it is worth considering continuing your lessons. So, once you have completed Basic Obedience I, I would recommend enrolling your dog in continuing dog training classes for further control.
USE YOUR OBEDIENCE: I also encourage all my students to USE what they have learned. Once you have finished, consider further training to teach your dog to be a Therapy Dog. Or join an agility club, herding dog class, protection dog program, or herding dog class. You will see that the foundation we do will prepare your dog for these other skills. Many of my students have taken their dogs into these other directions, and I fully support them in doing so. I'm not the endpoint of your dog's journey. I'm the foundation. Once the foundation is in place, you can then more easily do other activities that use your dog's special talents. I've even had a number of students that were having trouble in these fields, that came to me to put the necessary foundation into their dogs because their dogs were having trouble doing the agility, therapy dog work, etc. They didn't do the foundation work first, so their dogs were having trouble in these other programs, and we had to go back and fill in the gaps that should have been done in the first place.
OUR GOAL: A TRAINED DOG AND A TRAINED OWNER
Private, LIVE online and in-home dog training lessons are conducted throughout Phoenix, Arizona (AZ) and surrounding communities; 8 am to 9 pm, Monday through Friday; Saturday and Sunday lessons also available. Group lessons conducted seasonally, call for specifics.
PLEASE READ:
Why Should You Choose Sam Basso To Train Your Dog? (What To Expect)
Customer Testimonials (Please call me if you'd like to talk to my references)
My Prices (Complete description of prices for each program)
My Rules (Policies, Payment, Cancellations, Rules, Disclosures, etc.)
Tension In The Home (A Stressful Home Environment And How It Affects Your Dog)
I Hate Retractable Leashes
Sometimes a student CAN'T or WON'T do the homework. What is my policy regarding homework?
PLEASE ALSO READ: What If I Can't Do The Homework?
PLEASE ALSO READ: What If I Won't Do The Homework?
Locations Serviced: Ahwatukee, Anthem, Avondale, Buckeye, Cave Creek, Chandler, Chandler Heights, DC Ranch, Fountain Hills, Gilbert, Glendale, Goodyear, Laveen, Litchfield Park, Mesa, Paradise Valley, Peoria, Phoenix, Queen Creek, Scottsdale, Sun City, Sun Lakes, Surprise, Tempe, Tolleson
Sam Basso is a professional dog trainer and behaviorist, in the Phoenix/ Scottsdale metropolitan area. He's known for being fun, kind, intelligent, and humane. Sam Basso has a unique personal touch. He has appeared on his own TV show, been a guest radio expert, gives seminars, publishes a dog related blog, does rescue volunteering, and is active in promoting animal welfare and fair dog laws.
Call Today!
Sam Basso
PHOENIX , AZ AREA: (602) 708-4531
OR, if you are out of this area, inquire about a telephone or e-Lesson
Email: [email protected]